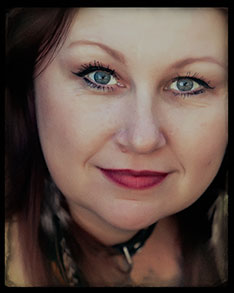 Chrysty Brandley has been creating beautiful images on anything from canvas to film professionally for over 16 years. Though she is an artist of many mediums, she has found her love and passion through the viewfinder. Years of experience in the darkroom, working with all formats of film, she has developed a profound technique of sharing her view of the word. Although her first love and passion lies with film and the magic of the darkroom, digital has found it's own place in her heart, thus expanding her creative eye.
Chrysty's work has been featured in both the fashion and jewelry industries. Her photographs have graced the pages of buyer catalogs within the bustling Los Angeles garment district. She has photographed models, clothes and jewelry for Lucky Jeans, Nicole Miller, and many other name brand designers. Chrysty has also photographed numerous bands from premier clubs in and around Los Angeles, including such hotspots in Hollywood, as The Whiskey a Go Go, The Troubadour, the Key Club, and The House of Blues. Chrysty has also photographed promotional work and live performances for numerous local and national bands in Los Angeles, the South Bay area as well as in Phoenix and Prescott, Arizona.
When Chrysty is not working a photoshoot, she fulfills even more of her creative spirit with painting, sculpting, and medium format film photography with her favorite shutter box, a Mamiya C33.